Jurassic World: Dominion Dominates Fandom Wikis - The Loop
Play Sound
Contest entry for the Summer 2018 design contest.
Designer: Mitsuo Yamamoto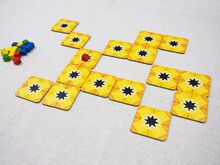 Goal
[
]
Be the last player to place a cube on the board
Components
[
]
25 tiles
25 cubes
Setup
[
]
Create a random board layout with the tiles. All tiles must be connected to at least one other tile, either orthogonally or diagonally, but there should be plenty of open spaces.
Play
[
]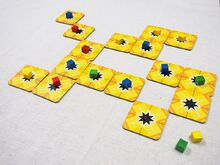 The first player places one cube on any one tile.
After this, players take turns to place as many cubes as they want to, following these two rules:
- All cubes must be placed in a straight line
- Every cube placed must touch another cube on the board (orthogonally or diagonally)
Winner
[
]
The player who places a cube on the last vacant space wins the game.
Variations
[
]
Try different layouts and also different number of tiles.
Instead of the last player winning the game, count each players score at the end. Every cube a player has placed counts as 1 point. The player ending the game by placing the last cube gets a 5 point bonus.